Where can I download my statement of accomplishment?
Answer:
When you complete a course or track, DataCamp will provide a statement of accomplishment for you to download or share on Linkedin.

There are three ways to see your completed courses:

1. From https://learn.datacamp.com/

Scroll to courses, which are organized by In Progress and Completed
Select Completed



2. From your profile page:

From the top-right corner, select My Account > My Profile
Scroll to Completed Courses

3. You can also access statements of accomplishment directly from the course dashboard.
How can I share my statement of accomplishment on LinkedIn?
Answer:
LinkedIn has recently changed its policy regarding automatic certificate submission, so you will need to manually add the information for your certificate. You can follow these steps to add a DataCamp statement of accomplishment to your LinkedIn profile:

Share your statement of accomplishment as a post or private message:

Travel to your desired statement of accomplishment: Where can I download my statement of accomplishment?
Select the LinkedIn icon
Select Share in a Post or Send as private message

Share your statement of accomplishment under LinkedIn's 'Licenses & Certifications'

Travel to your desired statement of accomplishment: Where can I download my statement of accomplishment?
Copy the statement of accomplishment's URL
Log in to your LinkedIn account and navigate to your profile page
Navigate to Licenses & Certifications and click on the + icon
Paste your DataCamp statement of accomplishment URL into the Credential URL field
Specify DataCamp as the certification authority
The credential ID is the last part of the URL (it is a long string of numbers and letters)
Add the name of the certificate, and click Save

More information on adding LinkedIn Certification can be found on the LinkedIn Help Center.
How can I share my finished DataCamp projects?
Answer: Many DataCamp projects can now be shared in DataCamp Workspace! Additional information can be found in the Workspace documentation and DataCamp's official blog post.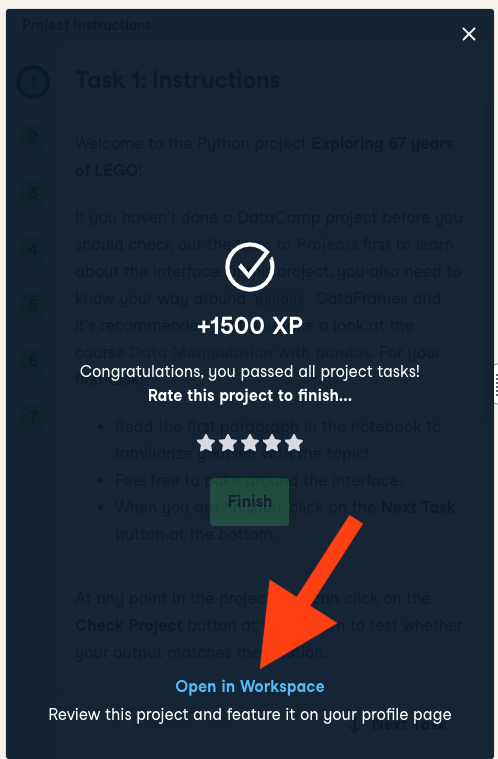 All projects can also be added to your external portfolio, as you can download the notebook at any time by clicking File > Download As > Notebook (.ipynb).
Note: DataCamp does not provide statements of accomplishment for projects.
Will I receive a statement of accomplishment after completing a DataCamp Signal assessment?
Answer: Currently, we don't issue statements of accomplishment for assessment completions. Information on course and track statements of accomplishment can be found here.
Do mobile courses offer Statements of Accomplishment?
Answer: Statements of Accomplishment are not currently available directly on the mobile app.
If you complete a course on our mobile app, you can access its Statement of Accomplishment on DataCamp's browser version.
How much for a DataCamp statement of accomplishment?
Answer: When using your DataCamp subscription, you can earn statements of accomplishment at no additional charge. After you complete a course in DataCamp, you can download the statement of accomplishment at any point.
Upon purchasing a DataCamp subscription, you would have access to all of DataCamp's content, and potentially statements of accomplishment if you complete the courses or tracks associated with them.
How can I update my name on a statement of accomplishment?
Answer: To change or add your name to your statements of accomplishment, you will need to update your name in Account Settings then click Save. It may take up to 24 hours for the change to be reflected in your statement of accomplishment.
Note: If you are enrolled in a DataCamp group, you may not be able to update your personal settings until you are unenrolled.

How To Download Statements of Accomplishment for Tracks
Answer: You need to enroll in a track to access its statement of accomplishment: Why can't I access my statement of accomplishment for a completed track?
We also recommend checking DataCamp's System Requirements to ensure you're using a compatible browser.
Here are quick steps on how to download your track's statement of accomplishment:
From learn.datacamp.com, select My Account > My Profile
Scroll down to Completed Tracks
Select the desired track
From the track's dashboard, ensure that you're enrolled in the track, after which you can select View in the green statement of accomplishment box


Click the download button in the upper-right-hand corner.
If the above steps still don't resolve the problem, please reach out directly to the DataCamp Help Desk for further assistance.
Can I Access Statements of Accomplishment After My Subscription Has Expired?
Answer: Your completed progress will not be deleted, but you don't have access to the content while the subscription is expired. You would need to resubscribe to access them.