Application
Are academic professionals eligible for free access to DataCamp?
You and your students are eligible for six complimentary months of DataCamp Teams through DataCamp Classrooms upon verification of your official school email address and personal faculty page.
You are eligible if you are a 1) teacher, 2) instructor, or 3) professor at one of the following institutions:
A college
A university

A secondary school in one of the following countries:

Australia
Belgium
Canada
Czechia
France
Poland
Singapore
United Kingdom
United States of America
Turkey
You can find more information about DataCamp Classrooms here: https://www.datacamp.com/groups/education.
Note: Only teaching staff can apply to DataCamp Classrooms. The application form is not for school administrators (principals, deans, etc.), students, nonprofit organizations, or researchers. Additionally, teachers at institutions that do not offer traditional secondary or undergraduate degrees are not eligible for DataCamp Classrooms access. Students may encourage their instructors to sign up for DataCamp Classrooms in order to obtain access. Alternatively, students may purchase affordable Premium Student Plans. Nonprofit organizations and student clubs may apply to DataCamp Donates.
How long does it take for my DataCamp Classrooms application to be approved?
We will send you a confirmation email after you submit the application form successfully. The application will be reviewed in 3-4 business days. After that, you will receive an email indicating whether your application has been approved, denied, or needs additional information. If additional information is requested, you have 14 days to respond.
Please note that the approval process will take longer during peak times.
Note: You will not be able to access these groups until they are approved.
Did I submit my DataCamp Classrooms application successfully?
After you submit the form, you will be navigated to https://app.datacamp.com/groups. Your group will be in Pending Applications:

You will also receive an email confirming that your application is under review. You will later receive a separate email indicating whether your application has been approved, denied, or needs additional information.
If you didn't receive any confirmation within a few minutes, check your spam folder. If you have extensions on your browser, your application submission may have been blocked, preventing it from reaching DataCamp.
You can re-submit the form by using a different web browser or switching to incognito mode on your browser. This will prevent browser extensions from causing issues with your application submission. If you have any questions, please feel free to reach out to the DataCamp support team.
Why was my Datacamp Classrooms application denied?
DataCamp's complimentary academic subscription -- or DataCamp Classrooms -- is an exclusive offer and requires that an application be submitted by an academic instructor.
If your application was rejected and you believe that you meet our requirements, then DataCamp likely needs additional information. Replying to the rejection email with the requested information will automatically create a ticket for our Academic Support team, who will further review your request.
Does DataCamp offer student discounts?
Yes we do! If you are a student who is actively enrolled at an eligible university, you can access a student rate for an individual yearly subscription: https://www.datacamp.com/pricing/student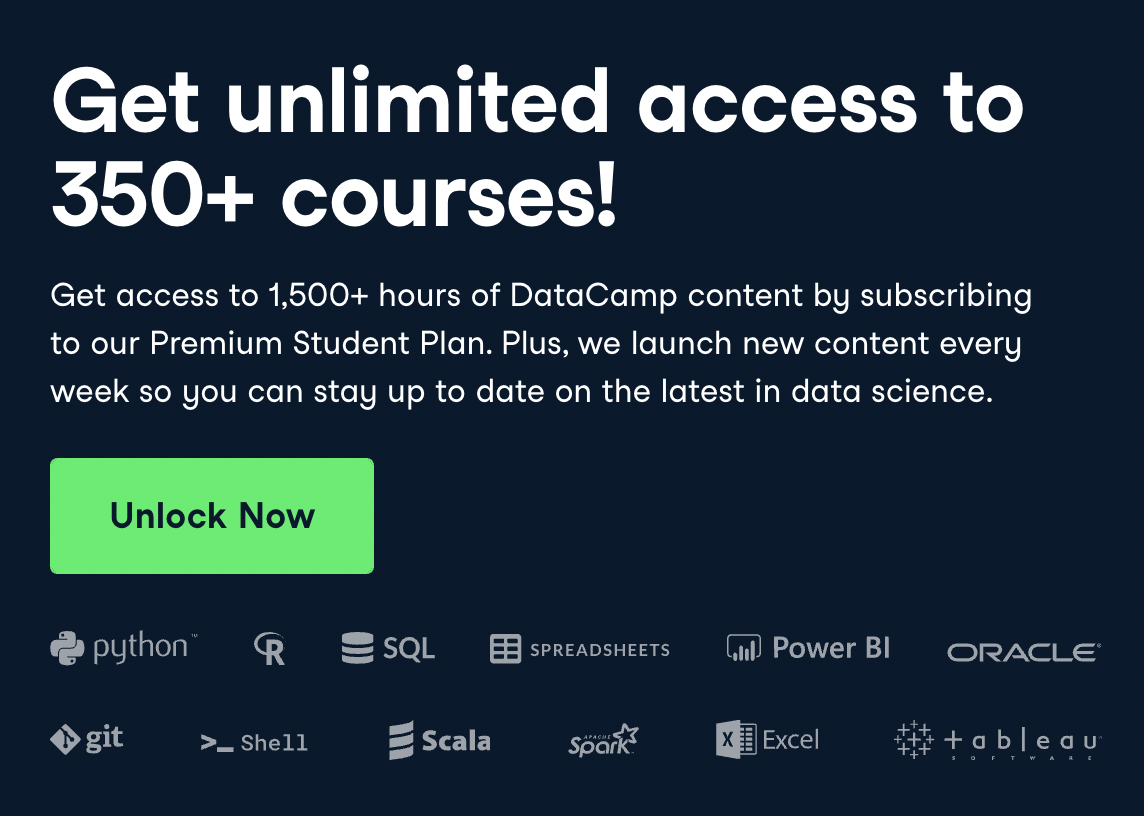 You will need to verify your student status by providing your university email and name.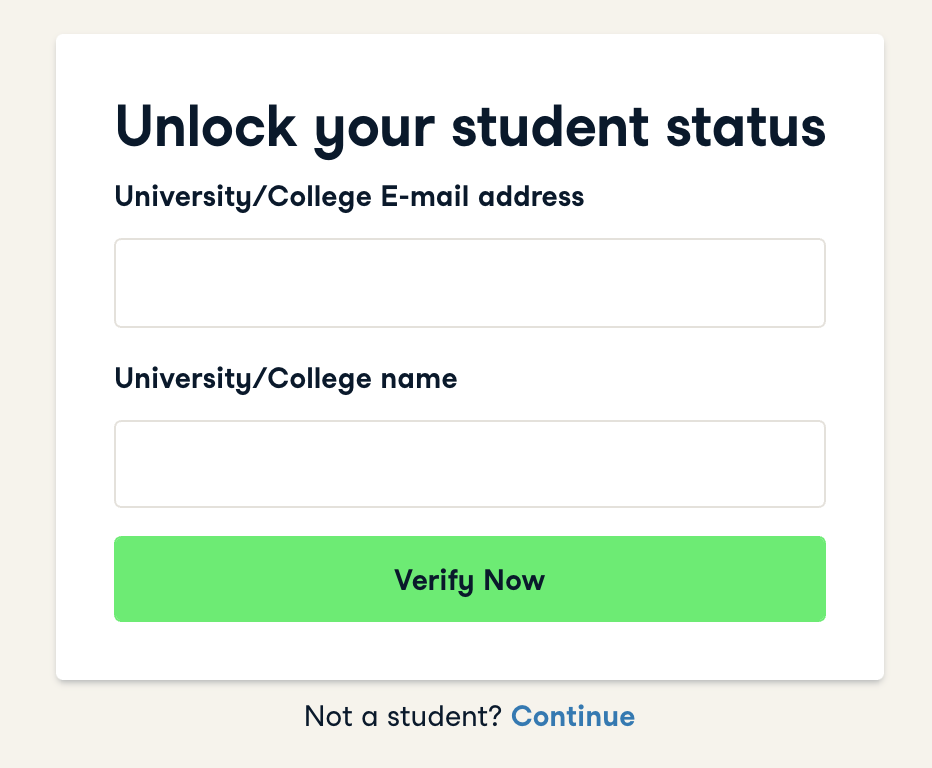 Note #1: Student discounts are only available to active students. This offer is separate from other promotions that are made available throughout the calendar year.
When will DataCamp Classrooms be available to high school teachers in more countries?
We are continually working to bring DataCamp Classrooms to secondary schools in more countries. Currently, we only serve high school teachers in the countries listed above.
If you are a high school teacher in a country other than those listed above and would like to apply for a DataCamp Classroom, we want to hear from you! Using your official school email address, please create a support ticket (atop this page) and CC donate@datacamp.com with the following information:
Your name

Your school's name

School district (if applicable)

The school's full mailing address

The school's website

Your faculty page on the school's website

General school phone number and email address

The class you want to teach
A member of our team will work with you to bring DataCamp Classrooms to all the high schools in your home country, making you a national hero.
Note: While we would like to make DataCamp Classrooms available to teachers worldwide, we cannot guarantee any timeline for this or if it is even possible. This depends greatly on the education, internet, and privacy laws in your country. But we will do our best to help.
When I click "Create My Free Class" on the DataCamp Classrooms application page, it says "Email should be a college, university, or high school email address." But I do have a valid official school email address. How do I get access?
If you believe the application page is not letting you submit because of an error, please let us know! Using your official school email address, please create a support ticket (atop this page) with the following information:
Your name

Your school's name

School district (if applicable)

The school's full mailing address

The school's website

Your faculty page on the school's website

General school phone number and email address
If we find that your school is indeed eligible, we will add its email domain to our approved list and you will be able to apply successfully.
Why has DataCamp given away free access to over 750,000 teachers and students?
Great question! Read these blog posts by our CEO and COO to understand why we believe making DataCamp free for students and teachers is so important.
Subscription
Why did I lose access to my DataCamp Classroom?
Academic Organizations are only valid for one semester at a time (6 months). Your Organization becomes invalidated after 6 months and the instructor (admin) needs to apply for a new Organization by submitting a new form here:
https://www.datacamp.com/groups/education.
Can you please renew the Classroom's access and make someone else the administrator?
If you would like to take over the DataCamp Classroom, only the instructor/administrator of the group can give you access.
Note that DataCamp Classrooms only remain active for 6 months. If you plan on teaching for another six months, you must apply for a new DataCamp Classroom and invite your students to that one once approved.
More information on the application process can be found in the following help article: What is DataCamp Classrooms?
Can I change my DataCamp Classrooms start date?
The group's start date cannot be changed. If you need access before your class's start date, be sure to reflect that as the start date during the sign-up process.
As a workaround, you can re-submit the application for a new group with an earlier start date.
Before the class start date, is there any possibility that I could get full access in order to prepare for my course?
The start date in your application signifies when you will be given access to DataCamp content. Before that date, the Organization's members and administrators will not have access yet.
If you need access before your class's start date, then list an earlier start date during the sign-up process.
Keep in mind that a free account still gives you access to the first chapter of every course on the site, along with the ability to browse all of our available paid content. One can still prepare for their DataCamp Classroom effectively without having full access.
Note: If you need to change any information on your submitted application, you will need to resubmit.
Members
Can I remove members from my Classroom?
If you are an administrator of a DataCamp Classrooms group, you can remove members by following these steps:
Navigate to the Members tab of your group
Select Members that you want to remove
Click on the Remove Members option

Why can't I invite members or create assignments yet?
You may see the message "Your organization doesn't have an active subscription" for two reasons:
1. Group's start date: Even if your DataCamp Classrooms application was approved, access to premium content will be granted on the start date of the Organization. Members can only be added after that date has passed.
If you need access before your class's start date, be sure to reflect that as the start date during the sign-up process.
2. Group has expired: The same error notice will be displayed if your Organization subscription expired. In terms of extending the group, we can't extend academic groups, though instructors can apply for a new group by submitting this form.
Can I invite all of my students into my Classroom?
You may invite students up to the number you requested in your DataCamp Classrooms application. Attempts to invite more than the approved number of students may result in your account's deactivation.
If you have a large number of students across multiple classes, we highly encourage using the Teams feature.
Note: DataCamp's Terms of Use state that members need to be over the age of 16. The only exception is in the United States, where members can be between the ages of 13 and 15 so long as their instructor obtains written consent from the member's parent or legal guardian. Written consent forms are valid for six months from the start date of the Classroom. Failure to attain consent forms for students age 13-15 in the United States may result in the cancellation of your Classroom. Inviting students under the age of 16 in the UK and EU will result in the cancellation of your Classrooms account. For full details, read our Terms of Use.
Can I give my Teaching Assistant admin access?
Yes! We recommend giving Teaching Assistants the role of 'Manager' or 'Team Manager': For Business | Roles and Permissions. The only Organization Admin should be the teacher who applied for the DataCamp Classrooms account.
Can I invite other faculty members into the account, like deans, admission staff, or other teachers?
No. We make DataCamp Classrooms available free specifically to educate teachers and students. Only teaching staff may apply and they may only invite their students and teaching assistants. Other teachers in the school should apply for their own DataCamp Classroom. Teachers/professors are not permitted to invite non-teaching members of the school faculty into the Classroom.
If your DataCamp Classroom sparks interest in your non-teaching faculty to use for their own purposes (such as attendance and budget tracking/research), please have them reach out to our Sales team to purchase a Teams or Enterprise account.
Assignments
How do I create Assignments?
Please see our article: Assignments Overview.
How do I know if a student has completed an assignment?
Once an assignment is made, you can monitor the progress of the assignment from the Assignments section of your Group Hub.
The first tab shows all active assignments, which include all assignments with a due date in the future. From here, you can see the assignment and content title, what audience it was assigned to, the due date, and a notification if it's due soon. You can see the number of learners who have completed it, the total number of learners it's been assigned to, and the completion rate. You can also search and filter by assignment type to make it easier to find what you are looking for.
The Past Due tab shows all assignments which have due dates in the past. Here you can still see the number of learners who completed the course and the completion rate, but since it's past due, you'll also see the number of learners who missed (or who have not completed) the assignment. Learners can still complete assignments past their due dates until they are specifically archived, but as an admin you will have visibility into who was late in completing the assignment.

Lastly, the Archived assignments tab shows you all archived assignments. An assignment should be archived if you no longer want it to appear as an option to learners to complete, but you want to retain the assignment completion details. You can also delete assignments, but if you do this you will lose the data associated with who completed it.
For each assignment, you can also view more details about who has completed it, who is late, and who missed the assignment. Simply click on the View button on an assignment to access these details.

How do I track my students' progress on an assignment?
Assignments are listed as "Incomplete," "Complete," or "Past Due." To find out if a student has started an assignment, you will need to ask them.
Additional Features
What features are included in DataCamp Classrooms?
DataCamp Classrooms access equates to full Teams access for six months for all members of the Classroom. Students and teachers have full access to every piece of content on DataCamp except courses on Tableau and Power BI. Additionally, teachers will have access to Teams admin features in the group dashboard like Assignments, Teams, Leaderboards, Reporting, and more.
Furthermore, DataCamp Classrooms accounts and their members gain access to an upgraded version of DataCamp Workspace with more CPU and RAM and full access to DataCamp Certification and DataCamp Jobs.
I teach multiple classes in the same school and/or in multiple schools. Should I apply for a new DataCamp Classroom for each class? Or should I just make a Team for each class within one DataCamp Classroom?
A DataCamp Classroom is best utilized for teaching one subject to a group of students from the same school. If you teach this subject to more than one class at a time (i.e. you teach Intro to Computer Science to 10th graders periods 1, 3, and 7), then we recommend making a separate team for each class/period so you can track each class' progress individually. Teams are a great way of managing different groups within one DataCamp Classroom. Once they are set up, you can assign content to certain teams and view team-specific reporting. See the screenshot below for reference. Click HERE for more information on Teams.

If you teach multiple different subjects at the same school (i.e. Intro to Python for 11th graders), we would like you to apply for a separate DataCamp Classroom for that subject. This helps our team know how many different classes are currently taught using DataCamp Classrooms.
If you teach at multiple schools, you are required to make separate DataCamp Classrooms for the different schools. Students from one school can never be in the same Classroom as students from another school. This will require you to make separate personal DataCamp accounts tied to each of your school email addresses. Inviting students from multiple schools into the same DataCamp Classroom may result in the cancellation of the DataCamp Classroom.
How do I track my students' progress on DataCamp?
The best way to track your students' progress is to give them Assignments. That way, you'll see who has completed the content you have assigned (and when they completed it).
Additionally, you may utilize Reporting and Leaderboards to track how many courses and chapters members have completed, their total XP, and when they last gained XP over the last 30 days, 90 days, 1 year, or all-time.