What are DataCamp Signal assessments?
DataCamp Signal is an adaptive assessment tool that accurately measures your data science skill level in Python and R. Each assessment takes about 10 minutes to complete. After completing an assessment, you will receive an assessment score and percentile ranking, your skill level, an overview of your strengths and skill gaps, and personalized course recommendations for areas of improvement.
Click here to start an assessment in Python, R, or SQL.

Is a subscription required to take DataCamp Signal assessments?
Everyone with an account can take DataCamp Signal assessments. You can attempt each assessment twice per week.
How many times can I take a DataCamp Signal assessment?
If you have a DataCamp account, you can attempt an assessment twice per week. The attempt will only count if you complete the assessment, so if you cannot finish, that will not count against you.
Are my DataCamp Signal assessment results private?
Yes, your assessment results are private to you. We will not share your results without your permission.
Can I see the results from my previous DataCamp Signal assessment attempts?
Currently, we only show the results from your most recent assessment attempt.
What should I do if I don't agree with my DataCamp Signal assessment score?
Let us know! When you finish an assessment, we'll ask you if you agree with your score. If you select "no," you'll be asked for more information. We read every piece of feedback, so please share as much detail as possible. This will help us improve the product in the future.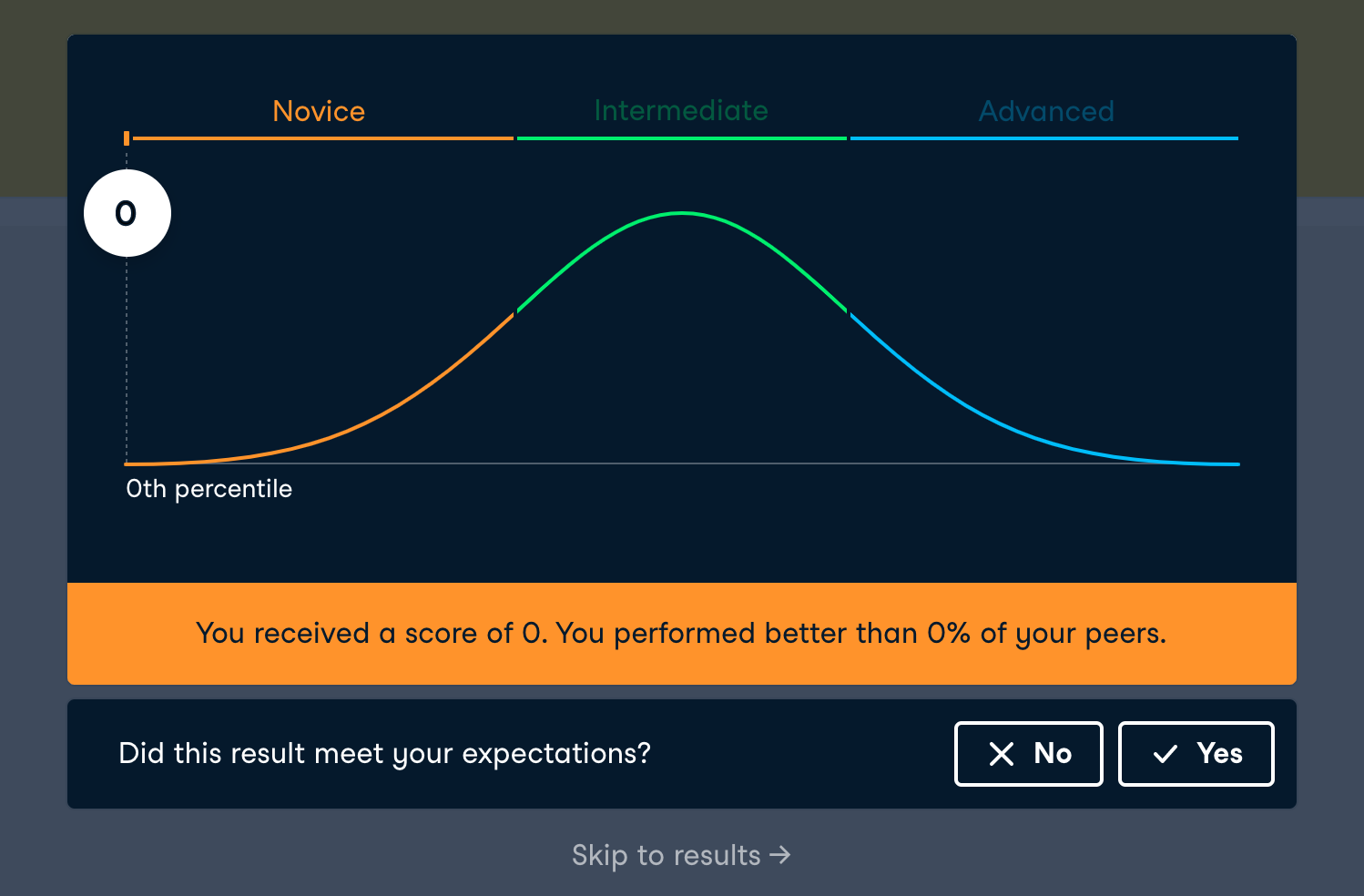 Can I leave a DataCamp Signal assessment before finishing it?
Yes, you can leave an assessment after starting it. However, we recommend completing an assessment in a single sitting for the most reliable results. If you do have to leave and come back, you'll start the assessment where you left off.
Will I receive a statement of accomplishment after completing a DataCamp Signal assessment?
Currently, we don't issue statements of accomplishment for assessment completions.
Information on Course and Track statements of accomplishment can be found here.
How can I suggest improvements to DataCamp Signal assessments?
We'd love to hear from you! Please submit your suggestions here.