Question: What does DataCamp include on its business invoices?
You can view and download PDF copies of your invoice from your Billing Section of your Organization's Settings.
New Subscription & Renewal Invoice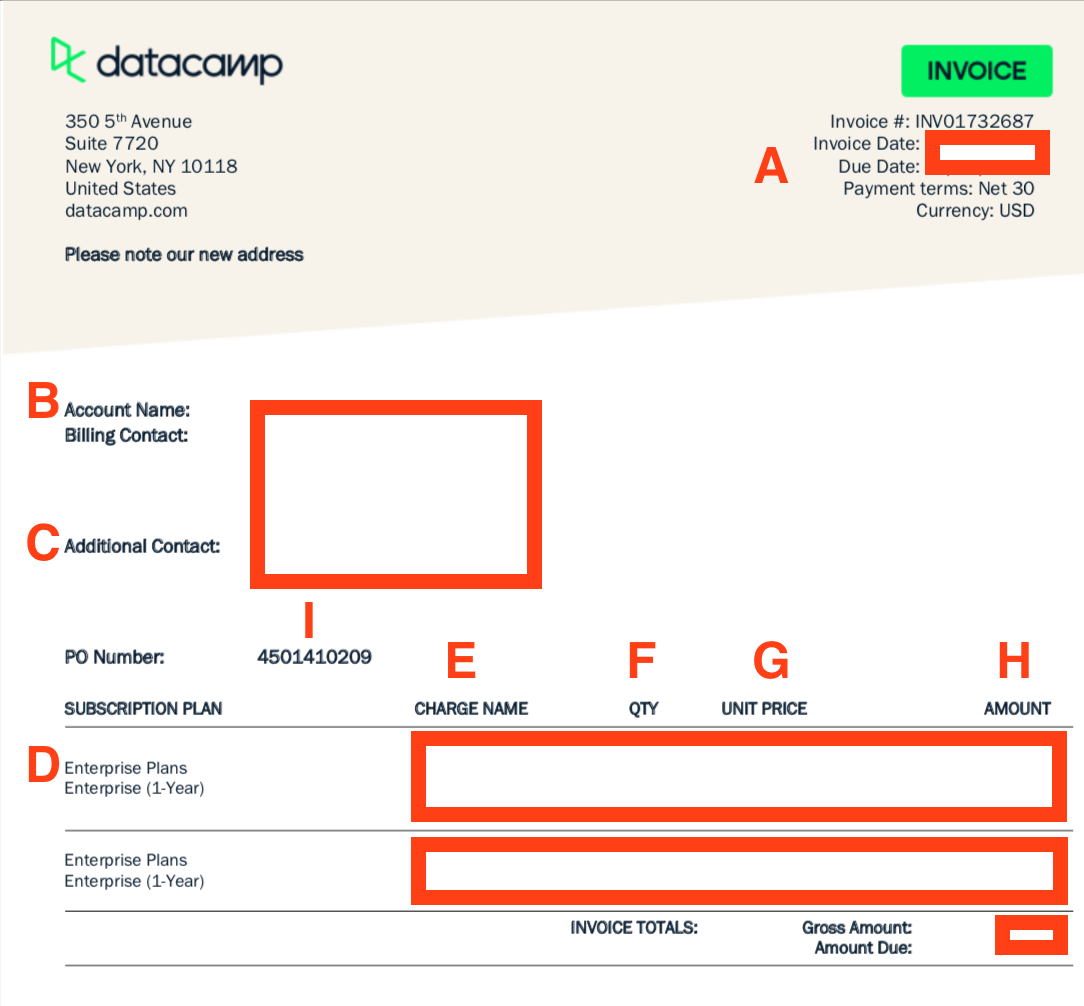 A. Important details about your invoice including your invoice number, invoice date, invoice due date, payment terms, and currency.
B. Your Organization's Billing Account name as well as the first name, last name, and address of your primary bill-to contact.
C. The name of your Organization's primary Sold-to contact. This is typically the administrator of your DataCamp Organization. Note, the bill-to and sold-to contact may be the same individual.
D. Shows the name of the subscription plan your Organization has purchased as well as it's specific rate plan. For customers on a tiered rate plan, this section will also show the rate (i.e. price per license) at different tier levels.
E. The Charge Name specifies the period in which the charge applies. For example, if you purchase an annual subscription on the 1st of January 2019 - the service charge period will show has 01/01/2019 - 12/31/2019. The dates here are in US format.
F. Quantity shows the number of licenses you are purchasing
G. Unit price shows the price per license for your purchase. For customers who are on a tiered pricing model with different price points based on the number of licenses currently active on your subscription, the unit price will appear on your invoice as the average, effective rate of licenses on your current subscription.
H. The Amount column of your invoice shows the amount of each line item, the total amount of your invoice and the amount due. If the invoice is fully paid, the amount due will appear as $0.00.
I. If you've provided a purchase order number, this is where it will appear on your invoice.
Question: How Can I Update & Regenerate My Company's Invoice & Billing Information?
Once in your Organization's dashboard:
Click on the Settings tab on the left-hand side
Click on the Billing tab at the top of this Settings page
Click on the Update Billing Information button at the bottom of the Billing Information section
Include all of the information you would like reflected on your invoices in the Billing Information section of this page (see screenshot below)
Regenerate the invoice in question by selecting the Refresh icon next to the invoice (screenshot below)
Download the invoice which will reflect all recently updated information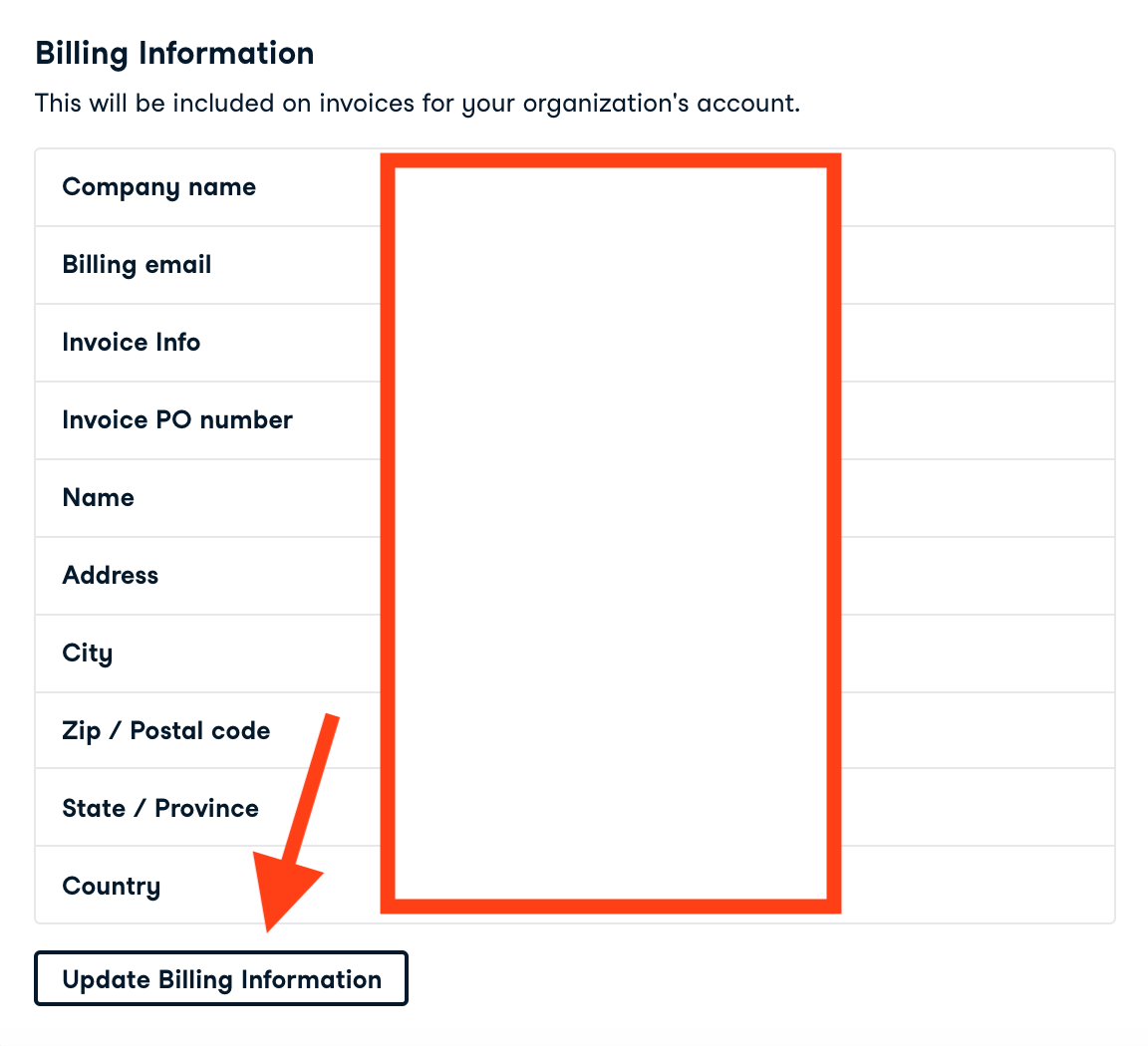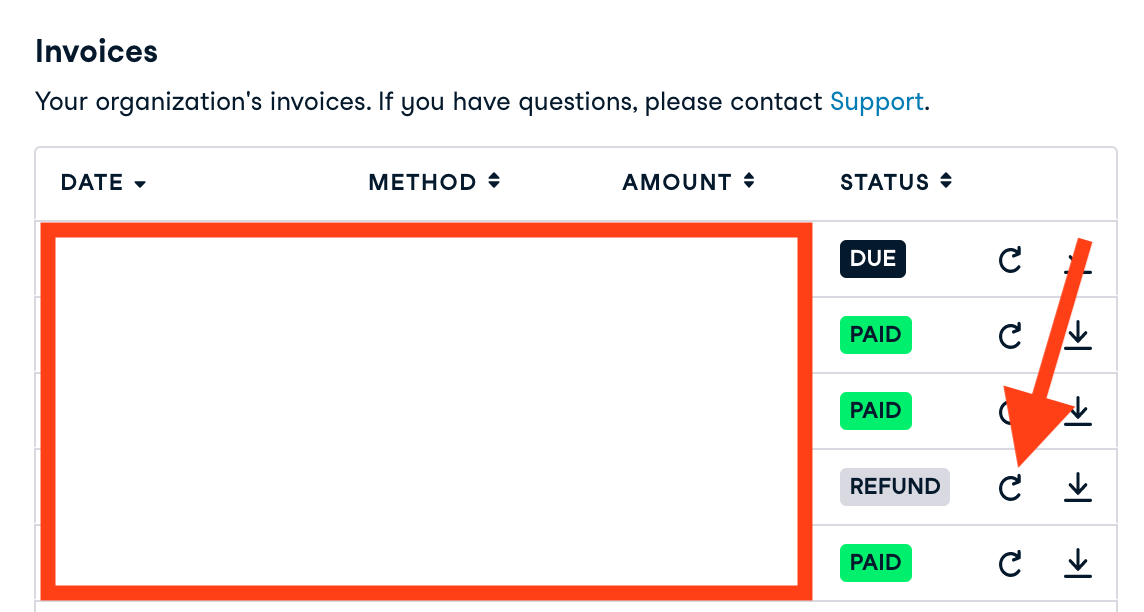 Note: If you add a P.O. for one invoice, it will appear in all subsequent invoices unless you remove the P.O from this section after you have regenerated that invoice.
Question: How Do I Process Open & Overdue Invoices?
Access your organization's dashboard
Update the payment method on file from the Settings > Billing page: How to Update Your Invoice | For DataCamp for Business
Reach out to Support@datacamp.com and confirm that you have updated the payment method on file and give us the authorization to process the open invoice with the updated payment method.
Support will provide confirmation once the process has been completed and the receipt for the payment will be reflected in your organization's Settings > Billing page.
Question: Can I switch my payment method to invoices?
DataCamp can offer invoicing rather than credit card payments for all new annual subscriptions over $1,500, or any renewal. New annual subscriptions under $1,500 must be paid through our website with a credit card.
If you have an existing subscription and would like to pay with an invoice, you can contact your Customer Success Manager or support@datacamp.com.
If you're a new customer, you can coordinate an Enterprise demo or purchase licenses for a Business subscription.
Note: Individual subscribers must pay with PayPal or a credit card.
Question: I added more licenses; when can I expect my invoice?
If your payment method is a credit card you should see an invoice generate instantly and automatically.
If you pay with an invoice, instead, your invoice may take up to 30 days to appear in the Settings > Billing section of DataCamp. Invoices are manual in nature, so it takes more time to process them.
Keep in mind, regardless of when the invoice appears in DataCamp, licenses are granted instantly. You can start adding members regardless of whether or not the invoice has been generated in DataCamp. The Licenses Purchased and Enrolled counts will also update automatically and instantly.
Question: How Can I Get A Receipt for My Refund?
Your refund receipt can be obtained directly from your DataCamp Organization's Billing section. See below for step by step instructions:
Log into your DataCamp account (as the DataCamp for Business administrator)
Scroll to the bottom and click on your Organization's Dashboard
Head over to the Settings tab of your Organization dashboard found on the left-hand side
Click on the Billing tab located in the top center of the screen
Scroll down to the invoices section to view all invoices; including refunds

The status section of each Invoice will indicate if it is a Paid, Overdue, or Refunded invoice.

Find the invoice with the Refund status and click on the download icon to the right of it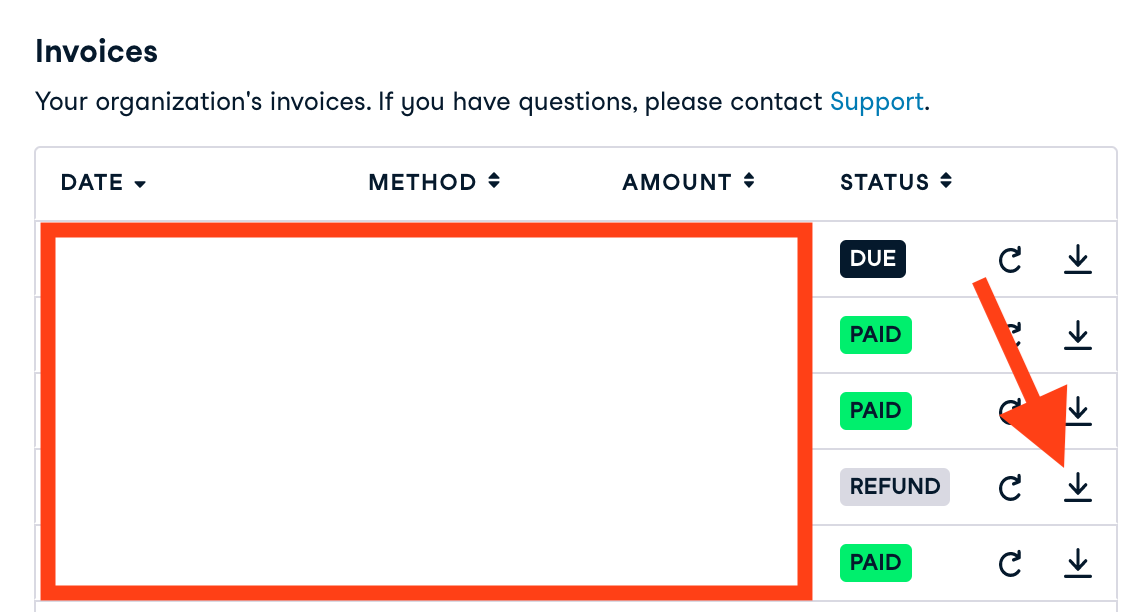 Question: How Can I Switch My Payment Method from Invoice to Credit Card?
If you would like to pay via credit card, update the payment method on file from "invoice" to credit card by entering your card information. Steps can be found here:
Access your organization's dashboard
Head over to the Settings > Billing page within the dashboard
On the right-hand side of this page, you will note the section titled Subscription
Click Add Payment Method
You will be redirected to your business organization's payment method page to enter your credit card information
Click Submit
Please let Support (support@datacamp.com) know once you have added the credit card to your organization's dashboard as we would need to process the charge.
See Also: