Introduction
What is DataCamp for Business? 
DataCamp for Business is designed to empower and engage your employees throughout their Data Science journey. Whether you have a team of experienced Data Science professionals or would like to introduce them to Data Science for the first time in order to drive value in your organization, DataCamp is the right resource for you.
How do I sign my team up for DataCamp for Business?
To learn more about DataCamp for business, navigate to the following page: 
https://www.datacamp.com/groups/business 
If you are ready to purchase a DataCamp for Business subscription, navigate to this page: 
https://www.datacamp.com/groups/subscribe 
 
Administrator Overview
Members
The Members tab of the admin panel is where you would manage your licenses or members. You can do a few things here:  
Invite Members

Via an email invitation
By obtaining an Invite Link
Note: To use the Invite Link option, you must enter a registered email domain first.



Look up member information

Licenses purchased vs. members enrolled
View and resend pending invites
View and search Members by Team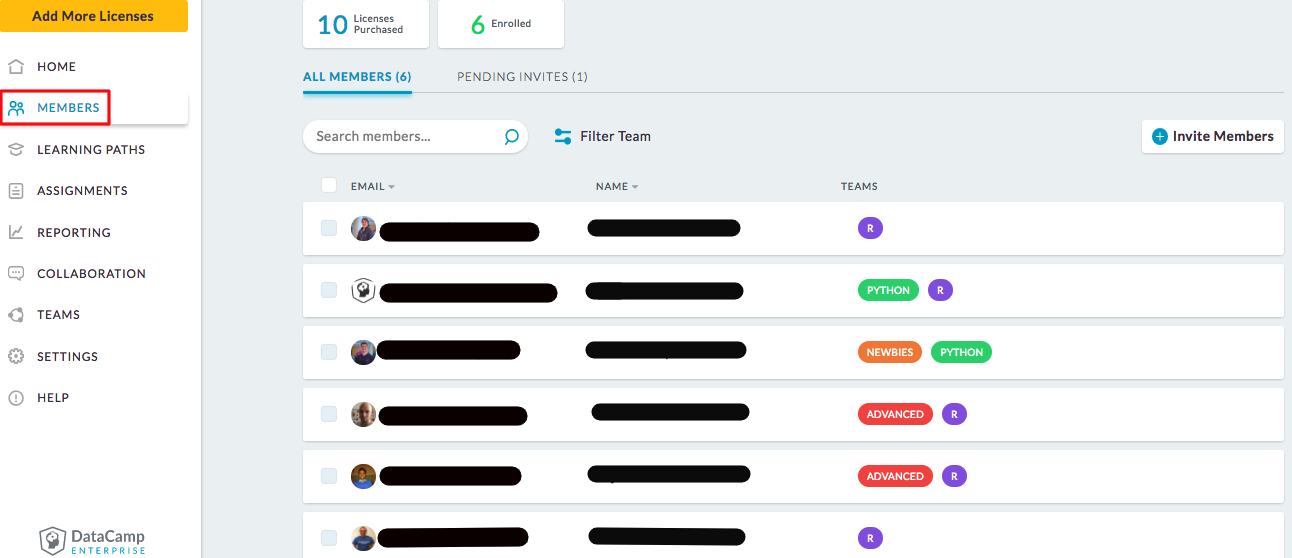 Adding Administrators
By default, the person that starts a new DataCamp organization is the Administrator.
You can invite additional Administrators by first adding them as a member. Once that is done, you would have to navigate to Settings > Add Organization Admin. 

Dashboard Only Access
Dashboard only access is designed for admins who only want access to the dashboard and do not want access to premium content. These will be considered "non-billable" licenses.
When you start a new DataCamp organization you are an Admin by default. You can invite additional admins by first adding them as members (see: invite member instructions).
Once they accept your invite, you can give them admin permissions from your organization settings under the Admin tab by clicking Add Organization Admin.

Look up their email in the search bar and then determine if you would like to give them course access or if they only need dashboard access. If they only need dashboard access, uncheck the box and click "Add Admin".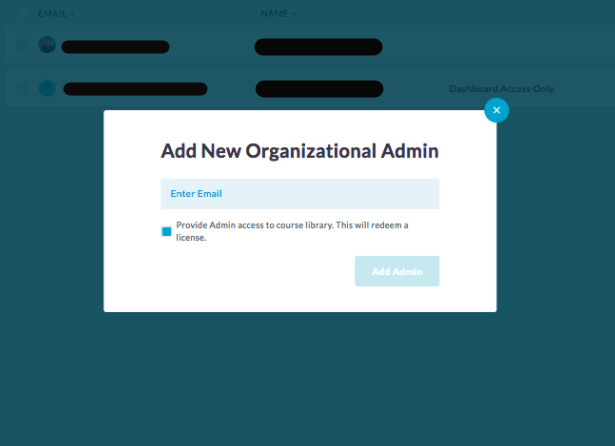 Teams
Teams are a great way of organizing Members. For example, you may have a subset of members with an advanced understanding of Python, but another subset with no prior Data Science knowledge. In this case, it would make sense to assign each subset to different teams.
As the Administrator, you'll have the ability to assign different courses, chapters, and XP collection tasks depending on their baseline understanding.

Assignments
Assignments are tasks that Members must complete within a given timeframe in DataCamp. They are assigned or created by the Administrator. The assignment types that we offer are: 
Collect XP
Complete Chapter
Complete Course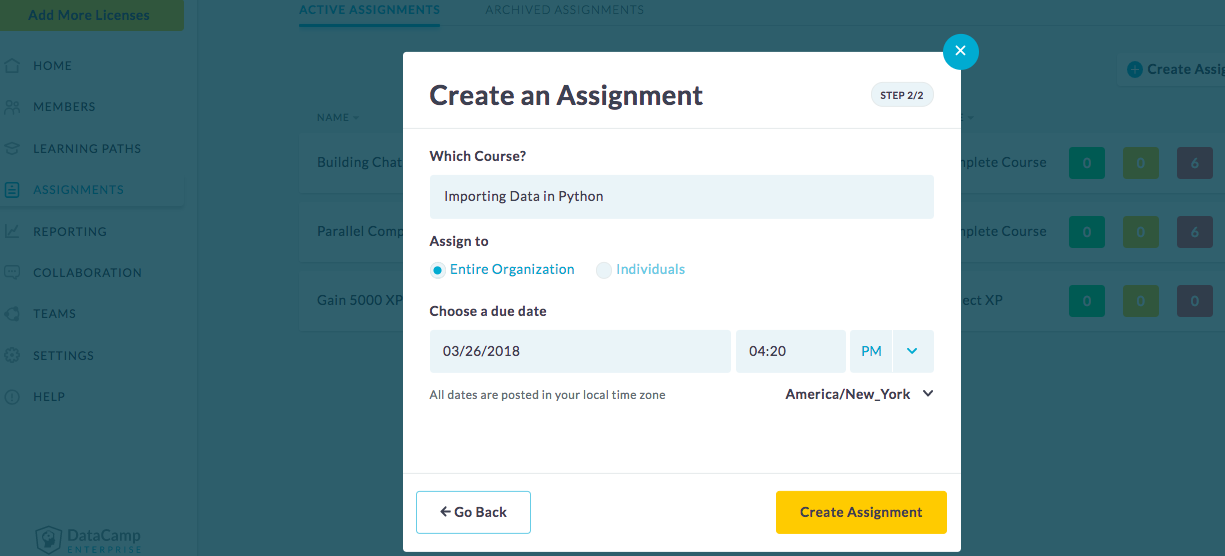 Assigning to Teams
The workflow for assigning to teams is slightly different than creating an assignment for your entire organization. Team assignments must be made directly from the team view. Step by step instructions can be found here: 
Navigate to the Teams tab
Select the team you would like to create an assignment for
Select Assignments on the lefthand side of your screen
Choose the option to Create Assignment or Create Your First Assignment

Reporting (Enterprise Plan only)
Reporting gives Administrators visibility into how well their members are doing. At a glance, there is information about XP, completed courses and exercises completed. A more granular report can be obtained in .csv or .xls format by selecting the Export Summary Report option.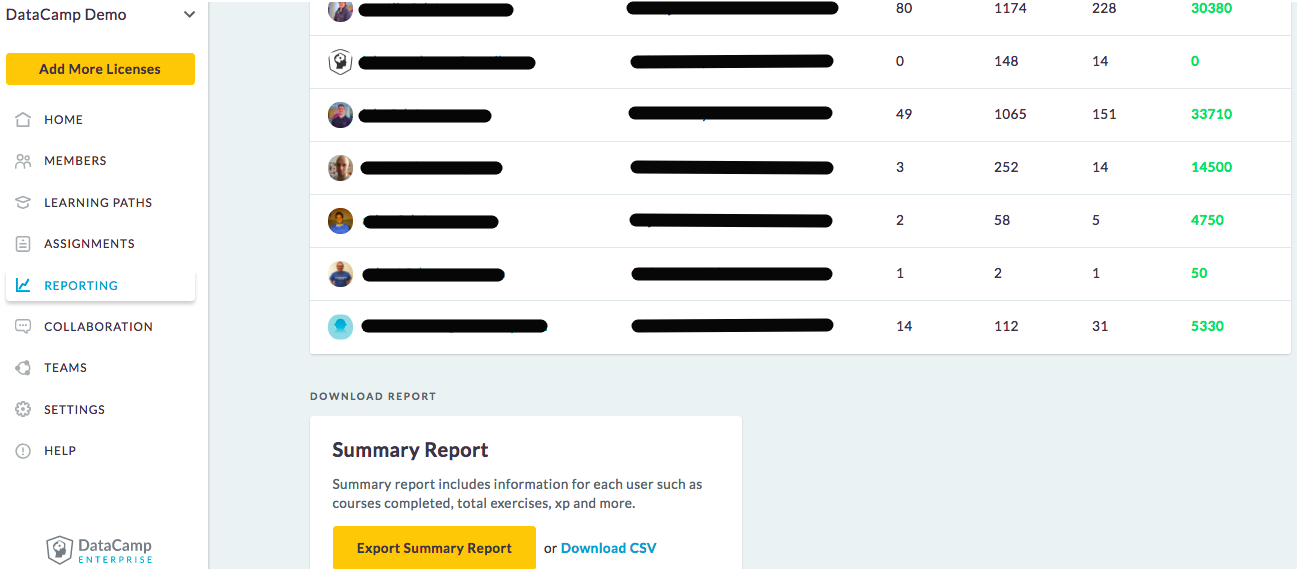 Settings
The settings tab, as the name implies, allows you, as the organization administrator to manage the organization settings. Some of these options include:
Looking up your billing information
Managing Invite Links
Adjusting privacy settings

Adding more licenses
Administrators have the ability to add more licenses at any time by clicking on the Add More Licenses option.