DataCamp's Curriculum Team has designed course programs (called 'Tracks') to guide your data science journey and incrementally build complementary skills. We currently offer two different types of Track -- 'Career' and 'Skill' -- in a variety of programming languages, accessible via our 'Learn' menu: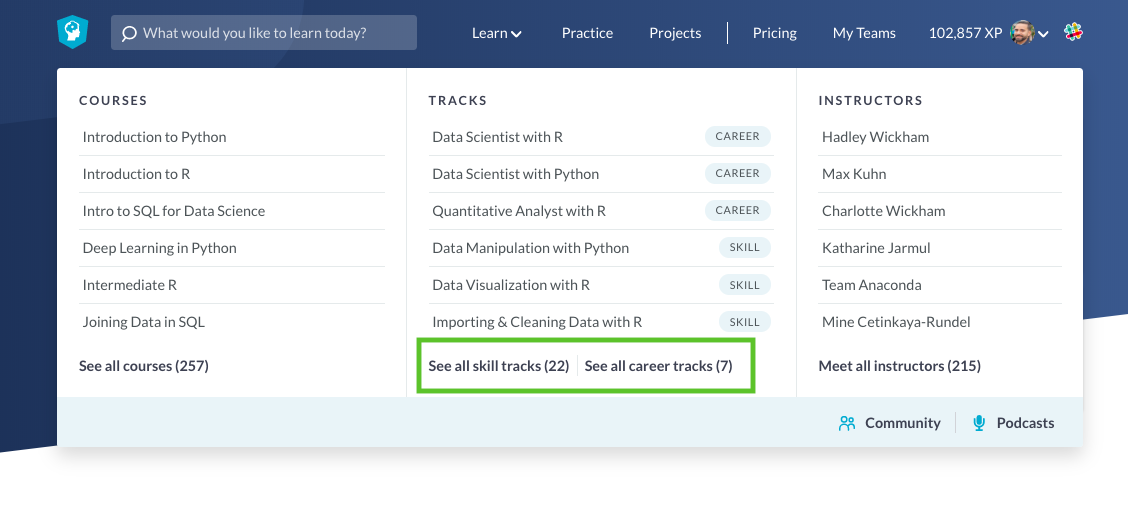 Note: While you can only enroll in one Track at a time, courses within Tracks can be completed at any time -- enrolled or otherwise -- and apply to your enrolled Tracks at any future date.
Once completed, you need to be enrolled in a Track in order to download that Track's Statement of Accomplishment.
Career Tracks
Career Tracks are our most thorough option for Python and R, beginning with introductory courses that cover basic skills (i.e. the syntax of the language) and ending with more focused, advanced topics (i.e. machine learning, network analysis, etc.).
Career Tracks in Python:
Career Tracks in R:
Note: Courses in the Programmer Tracks also appear in the Data Analyst Tracks, and courses in the Data Analyst Tracks also appear in the Data Scientist Tracks.
Skill Tracks
Skill Tracks range from 3 - 7 courses, focusing on specific complementary skills in various programming languages. (For Python and R, these courses and skills may also be included in Career Tracks).
DataCamp's Curriculum Team has curated Skill Tracks for intermediate-to-advanced programmers seeking particular skills, i.e Cleaning Data or Machine Learning.
Skill Tracks in Python:
Skill Tracks in R:
Skill Tracks in SQL:
Skill Tracks in Spreadsheets: