Introducing the New DataCamp App for Microsoft Teams: Elevate Your Learning Experience!
Are you ready to take your learning to the next level? DataCamp is thrilled to unveil our application for Microsoft Teams, designed to bring the world of data and analytics closer to you and enhance your engagement on the platform.
Bot Features
Weekly Leaderboard Insights: 🏆 Every Monday, our app will reveal the Weekly Leaderboard, showcasing the top achievers who've accumulated the most XP, motivating everyone to excel.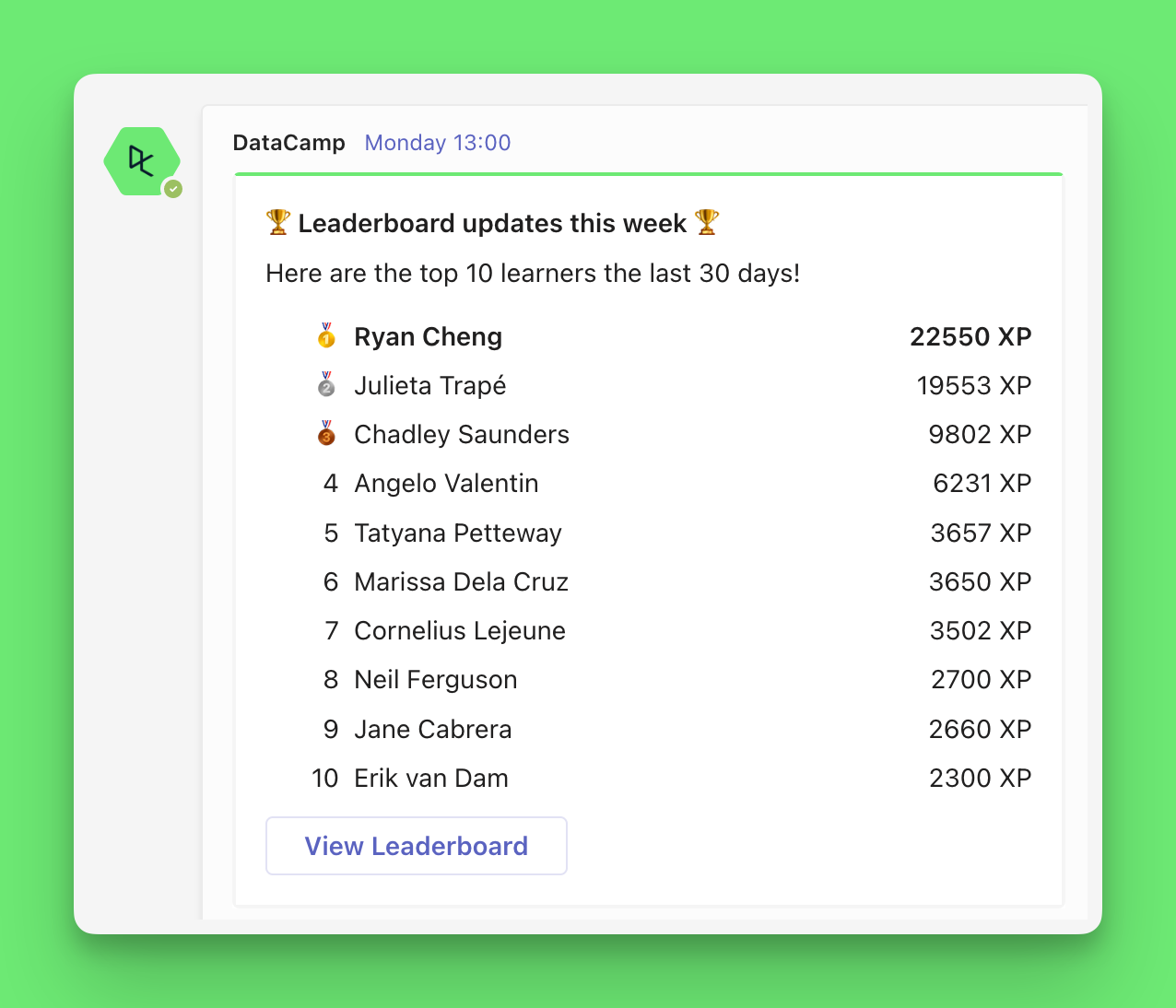 Weekly leaderboard updates
Instant Content Updates: 🚀 Stay informed with real-time notifications whenever a new course or tutorial is launched. Access exciting content right from your Teams channel.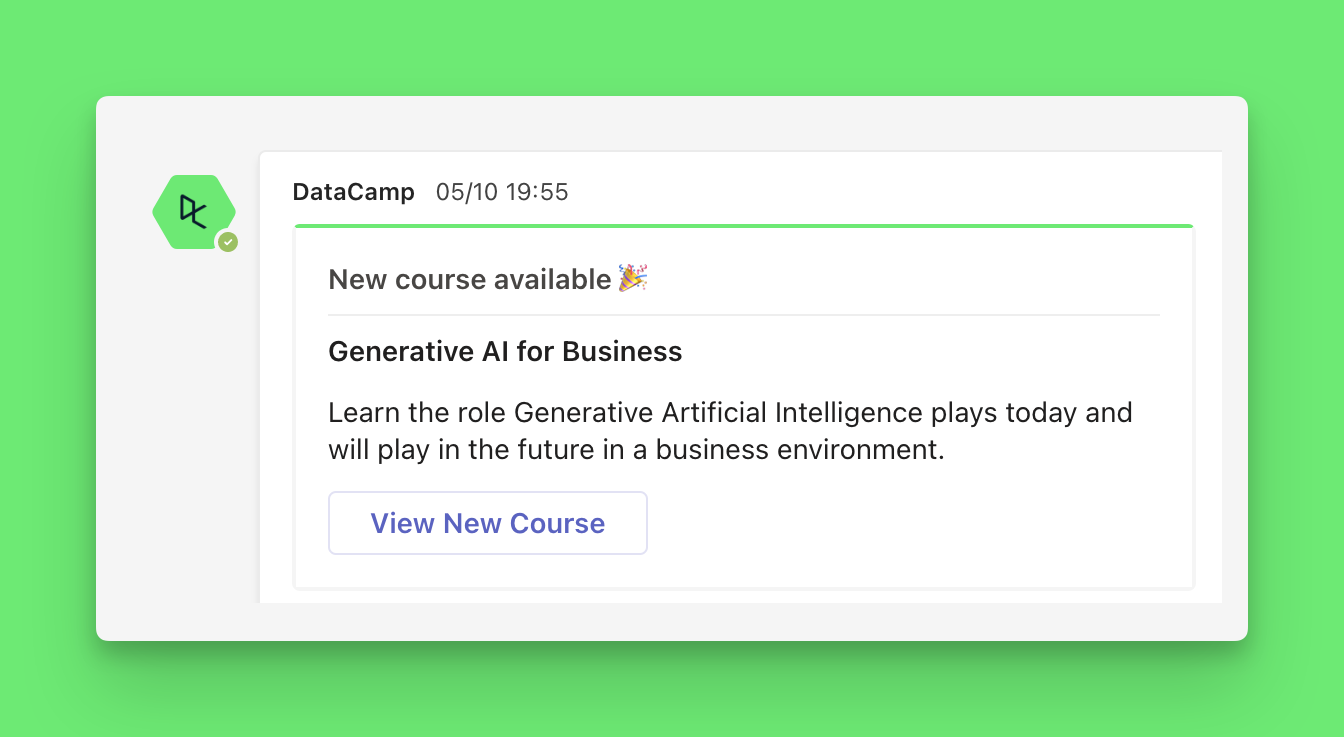 New course release
Personalized Learning Support: 🎯 The app provides tailored notifications, including new assignment alerts, assignment deadline reminders, and gentle nudges to reignite course progress.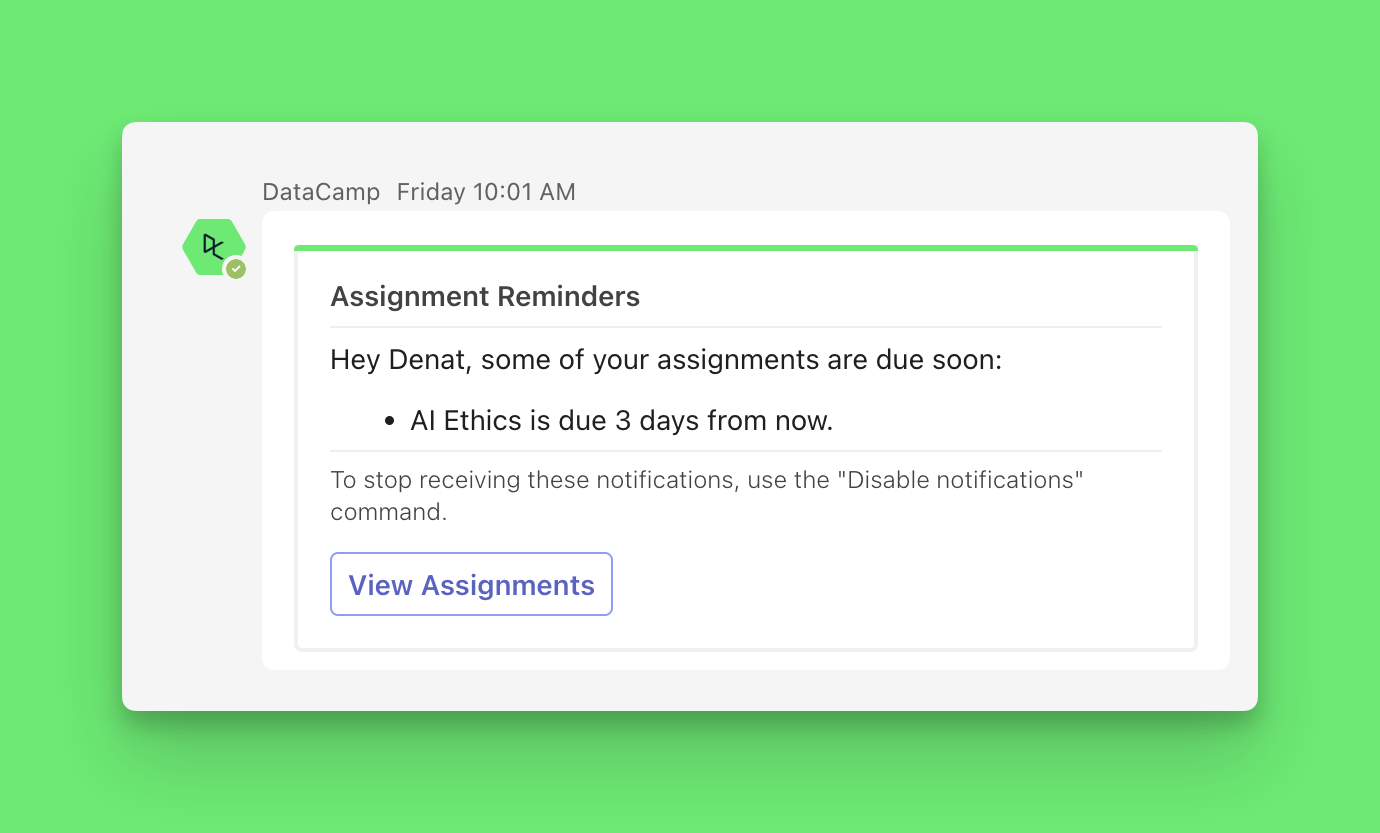 Assignment reminders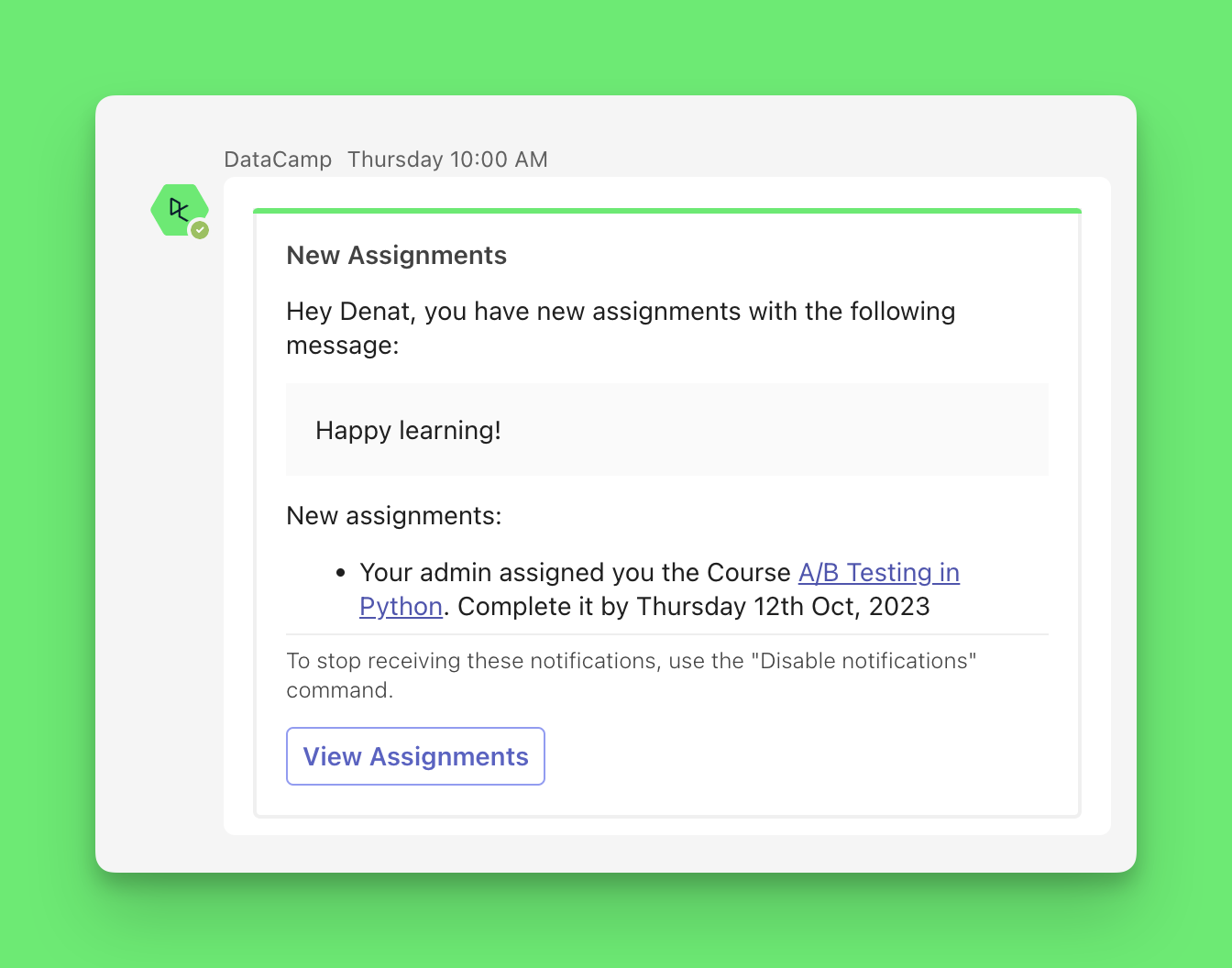 New assignments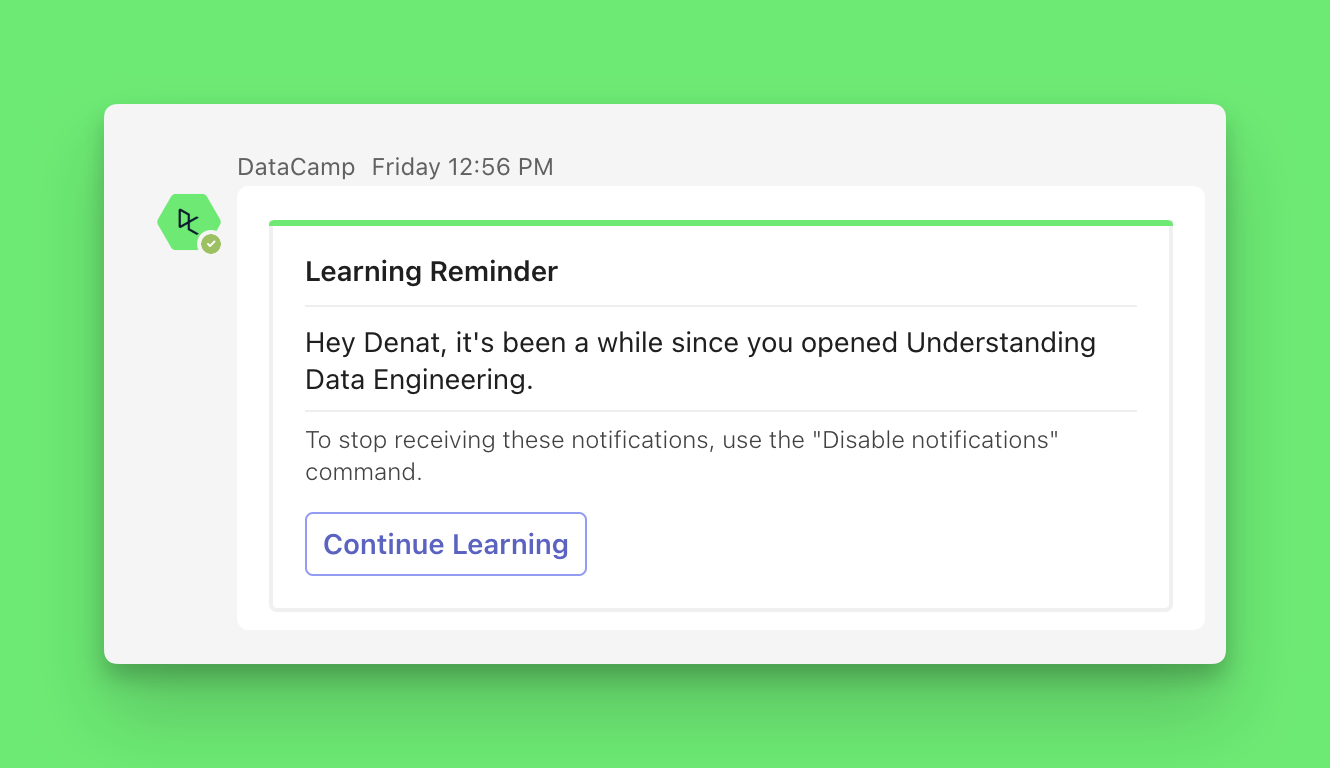 Learning reminders
Total Control, Your Way: ✅ Users can opt in or out of notifications, ensuring a tailored learning experience that suits your preferences.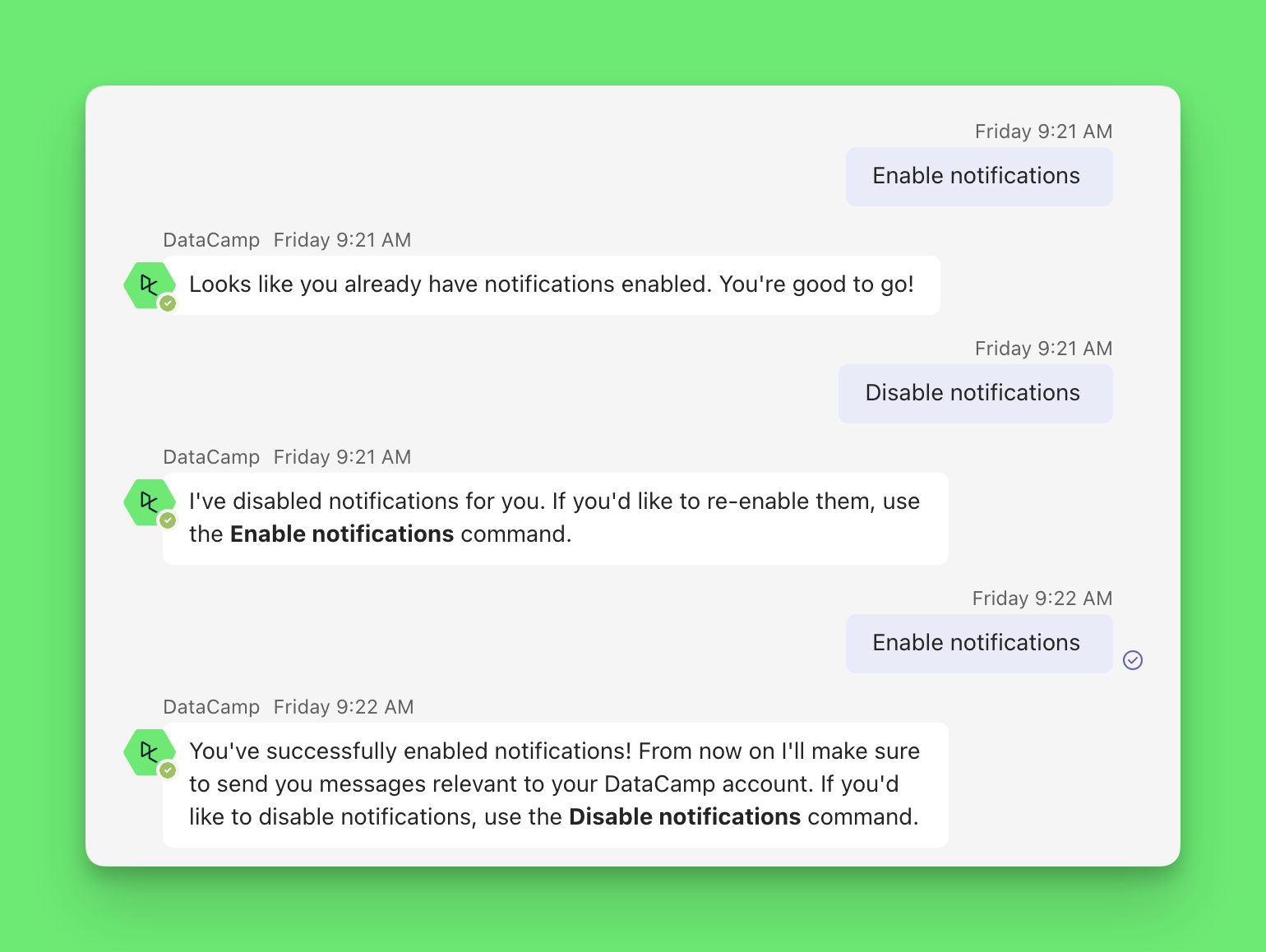 Enabling & disabling notifications
Stay Ahead with Our Evolving App: 🌟 DataCamp's MS Teams app is continuously improving in its beta phase, with new features and functionalities on the horizon.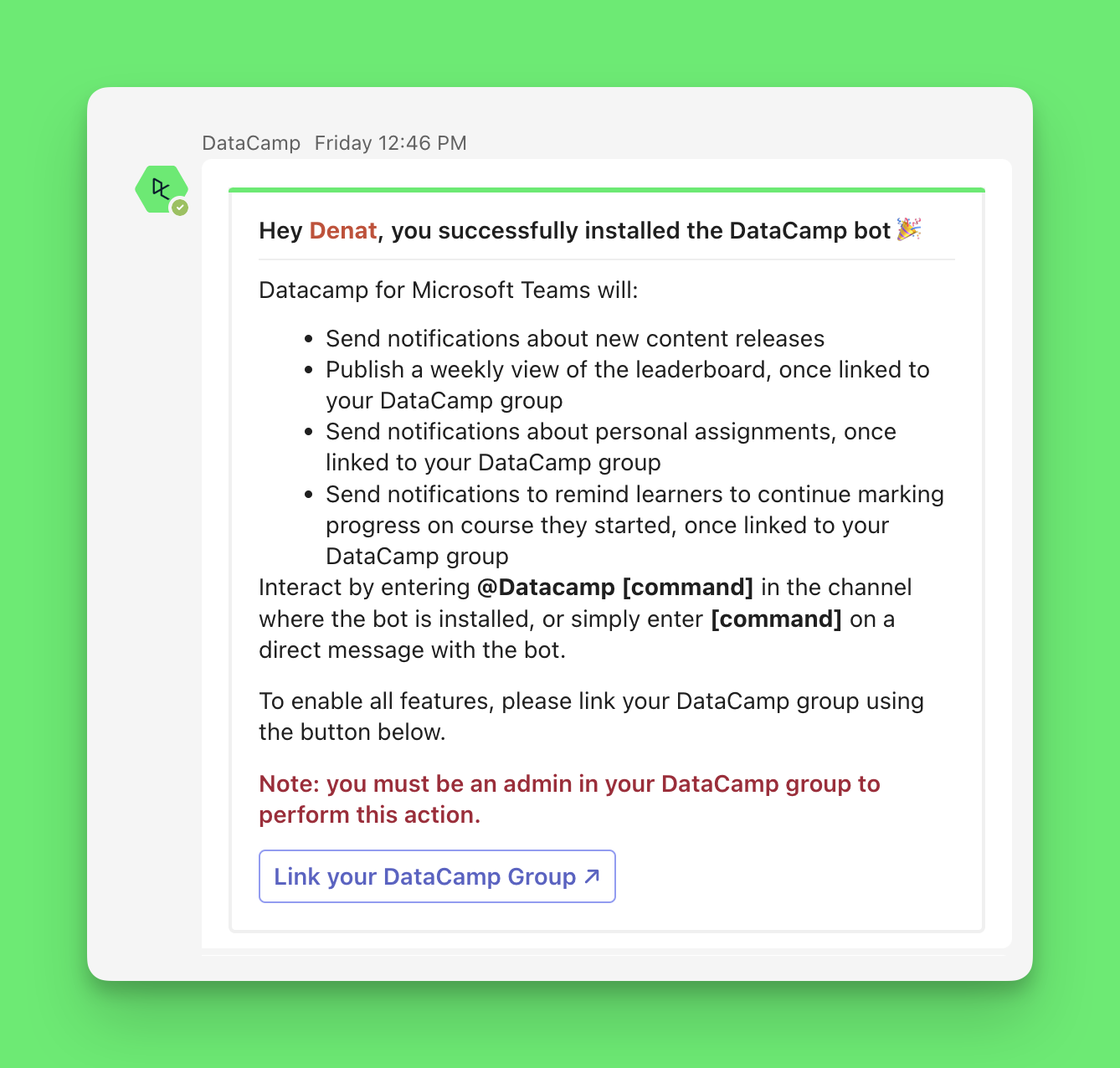 Yay! You've installed the DataCamp bot 🎉
Ready to Elevate Your Learning? 🚀
If this sounds like a valuable addition to your learning toolkit, then don't wait and get it from the Teams app store!
Don't miss out on the future of learning – embrace it with DataCamp and Microsoft Teams! 💡
Installation & Setup
When installing the DataCamp MS Teams bot, you'll first choose the team you want to install it in, and also a channel that will be used by the bot to post its general notifications such as content updates.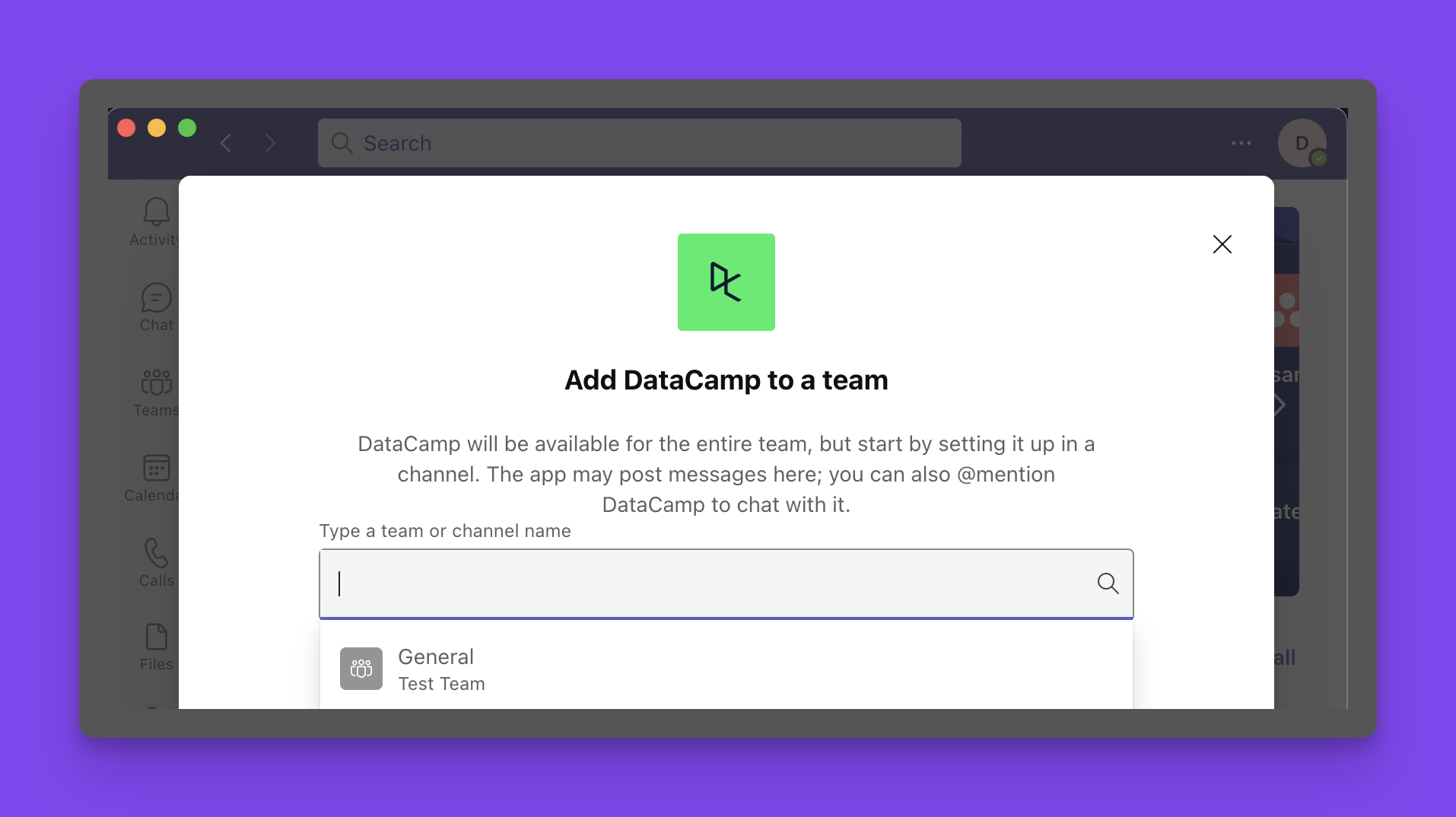 Installing the bot in Teams
To fully unlock all of the bot's features, you'll want to link your DataCamp group. This must be done by a DataCamp group admin.
The person that installed the bot in Teams will have received a welcome message by the bot with a "Link your DataCamp group" button. If this person is a DataCamp group admin, they should click on this button and start linking their group.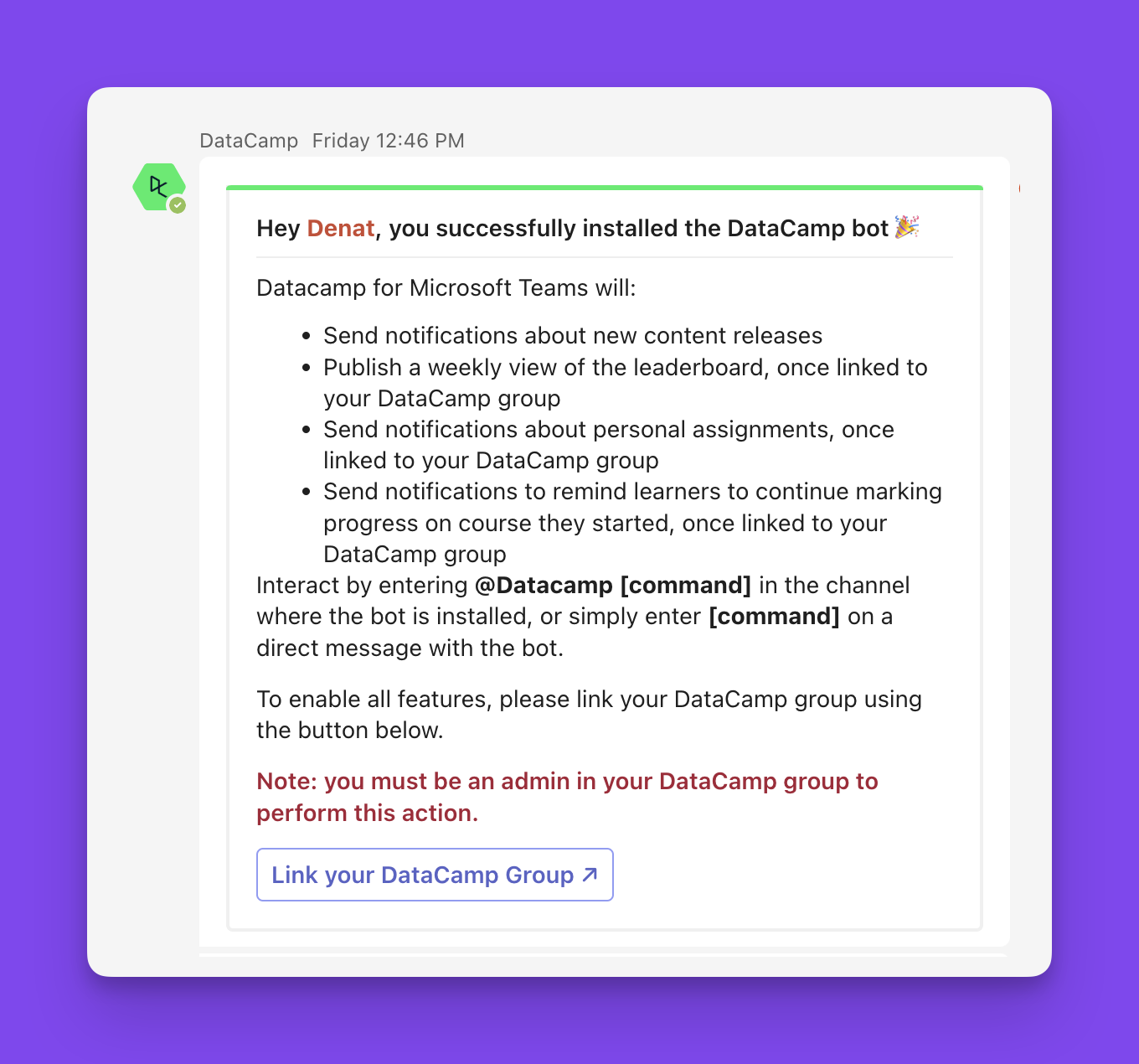 Personal welcome message
In case the person that installed the bot was not a DataCamp group admin, no worries: the DataCamp group admin can still request this button for themselves by using the "Link group" command in the Teams channel where the bot is located.
Note: If you don't receive a message after using the "Link group" command, it's likely because you blocked the bot somehow. This usually happens if you installed the bot on a personal scope and then uninstalled it. To fix this: unblock the bot either by right-clicking the bot from your list of conversations and then clicking "Unblock", or just reinstall the bot on a personal scope ("Add for me" option in the MS Teams app store). Please use the "Link group" command again after unblocking the bot.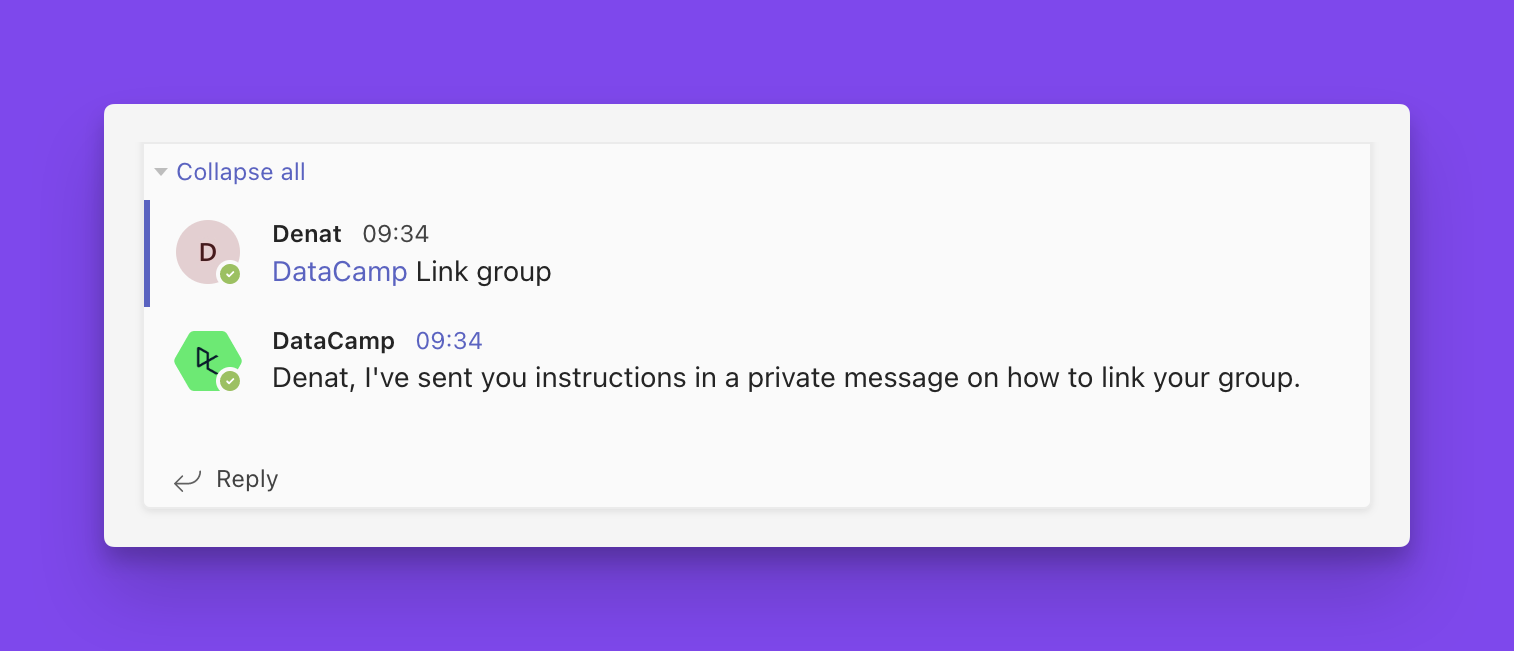 Using the "Link group" command in a channel
Personal message received after using the "Link group" command
Clicking this button will open an external link to DataCamp where they'll have to authenticate, after which they'll be able to select a group to link.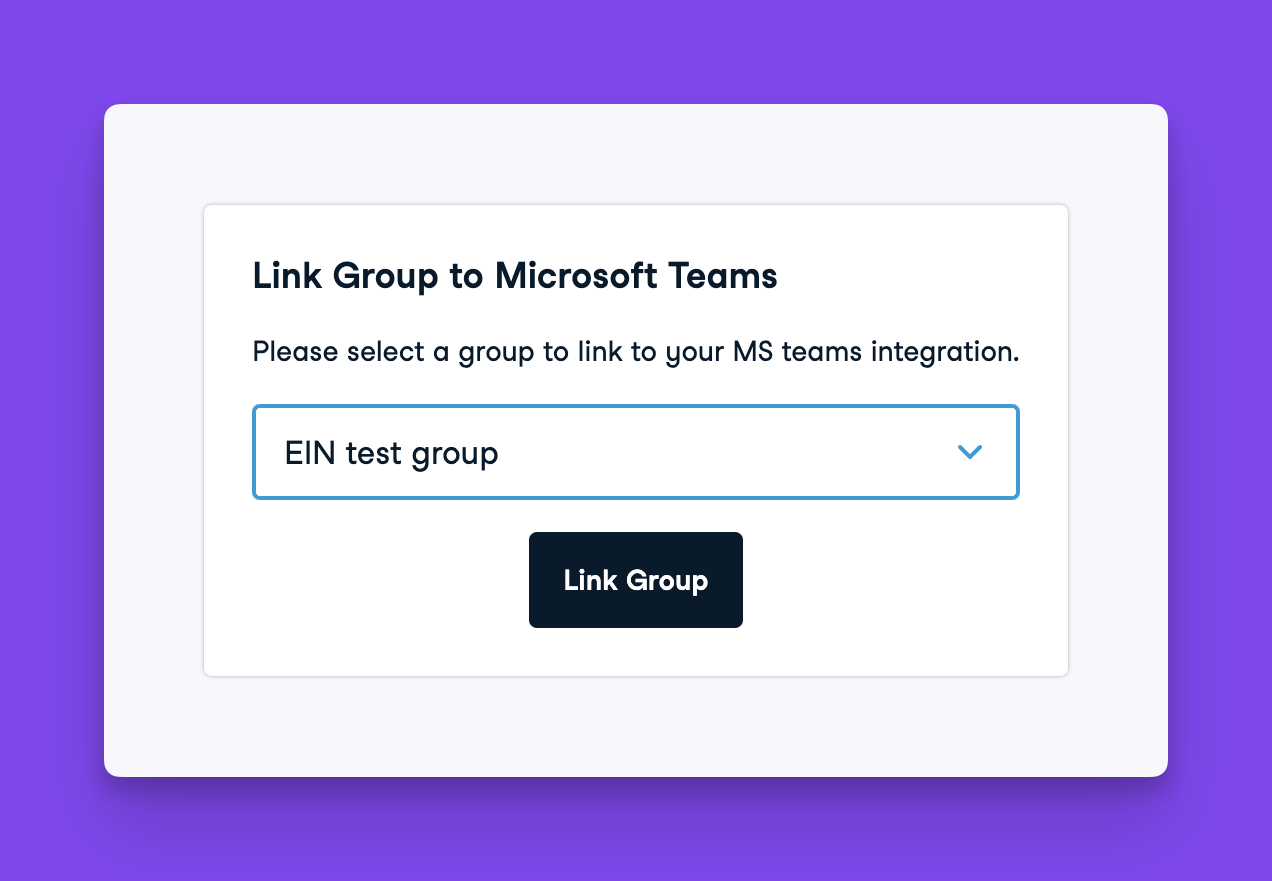 "Link group" page on DataCamp
After successfully linking the group, you (and the channel) will receive a success message on Teams notifying you that the group linking was completed successfully. You're good to go!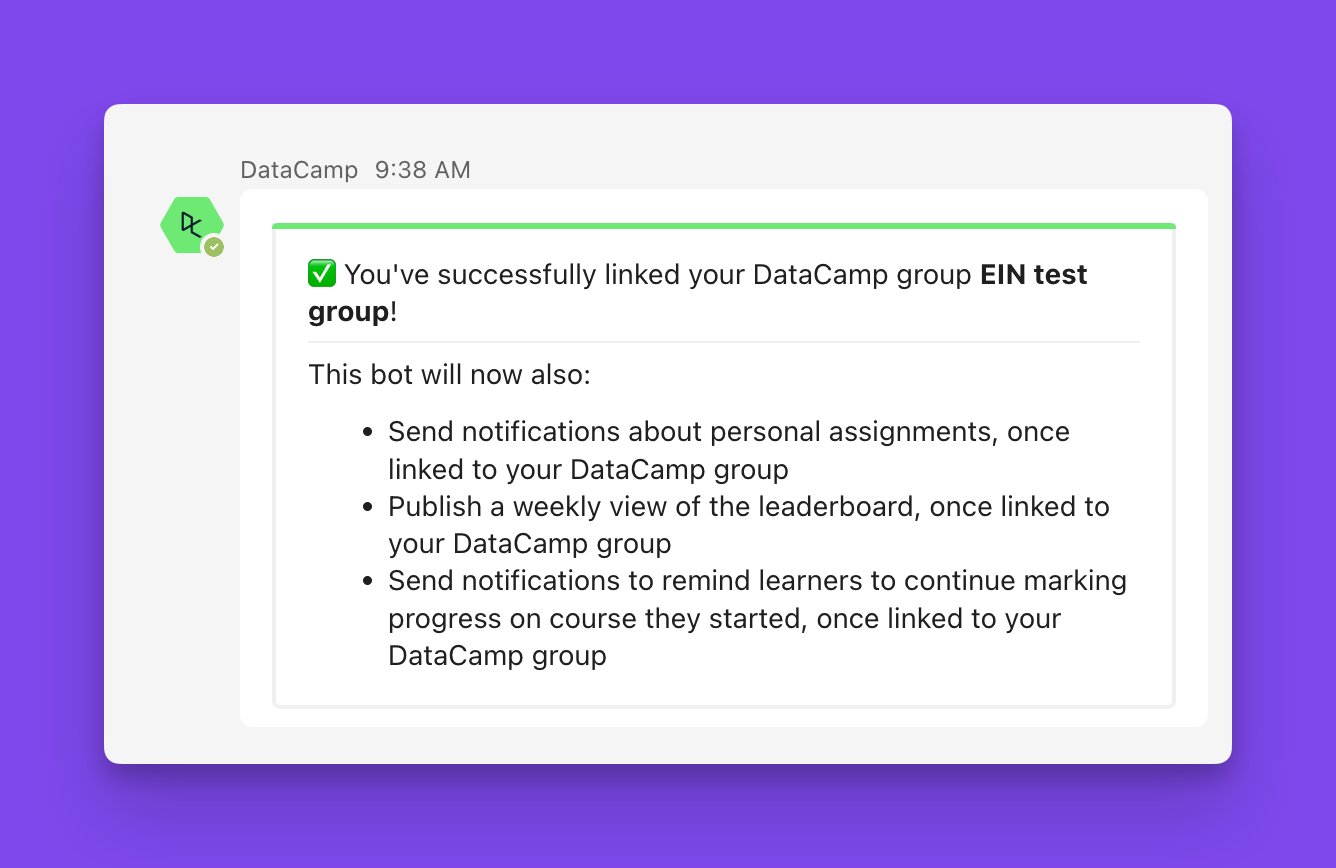 Success message received after linking the group